December 3rd, 2019
PH Defense Chief Vows Full Support in Country's Maritime Development Initiative
Manila, Philippines - Defense Chief Delfin Lorenzana pledged support and expressed high hopes for the country's Maritime Industry Development Plan (MIDP) for the next 10 years.
In a speech during the National Marine Summit held at the Manila Hotel, Lorenzana stressed that the MIDP is one of the government's primary objective.
"With MIDP, various government agencies such as the Philippine Coast Guard (PCG), the Philippine National Police (PNP), the Bureau of Fisheries and Aquatic Resources (BFAR), and the Armed Forces of the Philippines (AFP), with the Philippine Navy, address maritime terrorism, piracy, armed robbery at sea, transnational crimes, illegal fishing, and marine environmental degradation," said Lorenzana.
"It behooves upon us to ensure that the ownership of maritime business entities will remain in the hands of Filipinos. Rest assured that the Department of National Defense (DND), together with the entire security and law enforcement sector, would remain supportive of our country's maritime industry," added the defense chief.
MIDP 2019 to 2028 is the product of extensive consultation with key maritime sector stakeholders from the government, private sector, academic and training institutions, civil society organizations, and representatives from the International Maritime Organization from 2017 to 2018.
The comprehensive maritime plan intends to understand and address the core problem of the maritime sector, as well as the underlying causes of the problem, to plan and implement more responsive programs that meet the demand of the maritime industry. Apart from the multilateral approach to address maritime concerns in the country, Lorenzana said the AFP and the PCG regularly conduct maritime patrols to protect the integrity of the Philippines' sovereignty and sovereign rights in its maritime domain.
To further boost the government's efforts to secure the maritime industry, Lorenzana said assistance from the private sector is "very much welcome." "The maritime industry must go beyond its commercial and business pursuit, this time, to be of service to country's interests in protecting our national interests in our vast border," he said.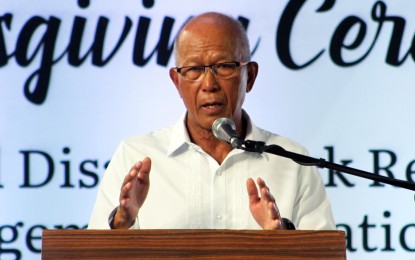 PH Defense Secretary Delfin Lorenzana on full support in country's martime development initiative.
Source: Philippine News Agency